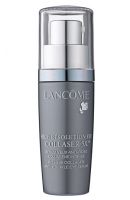 Fantastic treatment, sadly discontinued

I'm becoming quite the Lancome fan-girl. When I can afford it, that is. And with gas prices on this crazy trend, I've certainly been watching my pennies more and using that time to find more freebies. ;) I did give Lancome's High Resolution Eye with Collaser-48™ a drive. It's a "deep collagen anti-wrinkle serum". Let's get the easy stuff out of...read more the way first: the packaging is sleek silver, very spa and very glam. This serum is in a little pump bottle (0.5 fl oz) so it stays sanitary and uncontaminated (LOVE that!). You apply this serum every night after cleansing and before bed. I have been testing it off and on (and been slacking on writing the review for some reason) for 3-4 months now. It's really a superb product. The cream sinks in so quickly around my eyes. No stinging, no irritation. I wake up with firmer skin and less baggies. If you have thin skin and/or the beginnings of wrinkles around your eyes, I have no problems recommending this product for you. Lancome is reliable and actually does the research to back up their claims. Don't expect overnight results (as with any serum- no matter *what* the ads may say…), but with continued use, you can certainly see improvement. Bionic thumbs up! Unfortunately this grand product has been discontinued (so I'm making my little tube count!). But Lancome's released the next-generation with High Resolution Eye with Collaser 5X. Very similar product.

Used for puffiness

I am 23 years old and used this as a recommendation to reduce puffiness and that "tired eye" look. it doesn't really work that great. i use it ever day and night and the only difference i have seen is that it makes my skin soft around my eyes. sometimes, the cream flakes off if you apply your makeup over it, even after waiting an hour or more after it has dried. i bought my container in april and i still have enough to use today in august. it lasts a long time.

OK

I didn't particularly find it helpful. I have always had dark circles and am starting to get some wrinkles around the eye area. I have tried several eye creams and this did just about the same thing--nothing.
Back
to top