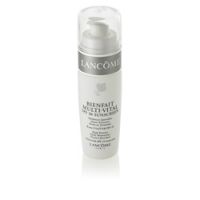 My Go-To Moisturizer

I have used this moisturizer from Lancome for years. I have combination/dry skin and this is perfect for me. Previous moisturizers felt too heavy on my skin and were not adequately taking care of my dry patches. This works wonders. It sinks into my skin quickly and feels very light. An SPF is a must for any daily moisturizer if you do not use a separate sunscreen (the less products used, the ...read morebetter, in my opinion). Just 1-2 pumps covers my face and neck. Even though this moisturizer has an SPF 30, it doesn't have that terrible sunscreen smell. The fragrance is very light and does not linger after it blends into your skin.

keeps me looking young!

I was self conscious about going back to college and being the "older" student. I was surprised to learn that all of my 18,19,20, and 21 year old classmates, thought I was their age!!! I am 28 and I look younger than I thought. I owe it to this lotion that I use every morning faithfully, rain or shine! I highly recommend this lotion to anyone who wants to keep their young looks!

I like the SPF 30!

This moisturizer is light and to me non greasy. I feel comfortable knowing that I am getting vitamins through a moisturizer as well as a high SPF which is hard to find in a daily moisturizer. This is great for people who have normal skin.. I wouldnt reccomend it much if your skin is very oily or very dry. This product is worth the money if you want a light moisturizer with high sun protection.
Back
to top