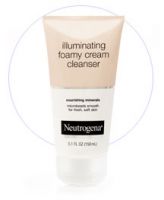 The Best I've Ever Used

This Cleanser made my skin feel better after a day. After 2 weeks, I noticed more even skin tone. A great product, but difficult to find. Very good value for the price, better than many that cost much, much more.

YUM!

I love this product even if it's "illuminating" effects are minimal. The smell is absolutely lovely and fresh kind of like Pantene Pro-V. Nice balance of foamy, creamy, and gritty for the texture. A pleasure to use and feels great.

Love the name, love the foam

I just purchased this product a few days ago and I can say that I definitely felt a difference after using this rather than my old face cleaner. My skin was softer and felt much cleaner. I'm not sure about the "illuminating" effect, but I could definitely feel the difference after the first use. And I love the name!
Back
to top