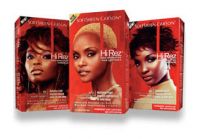 Soft Sheen Carson HiRez High Resolution Hair Color
As low as
Disappointed...

My hair color of the red did not show up on the ends only on the roots. SO who wants color just on the roots and your hair doesn't grow fast so I am stuck with this color for a while. I am very disappointed with this box dye because I feel as though it could have been a bad batch or something but for now I do not recommend the box hair dye.

Great Color- for a while.

The red shades are great for dark brown or black hair. The in-box conditioner is only average, so you may want to use your own deep conditioner afterwards. The biggest problem I have with it is how quickly the red shades fade out.