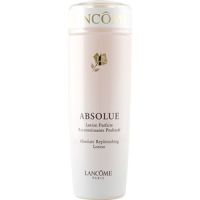 Incredible!

I have never used a toner, felt that it was not needed. I rec'd this as a gift and LOVE it! It removes any reside from your cleanser (especially great when using a grainy scrub-takes those last few impossible-to-remove grains right off!) Leaves your face feeling soft, supple and fresh w/o being dry. Wonderful stuff!

Good

Received a sample of this with a gift with purchase, and though it is somewhat heavy for my normal/combination skin, I used this on my neck and decollete area with impressive results. My skin looks years younger, and feels wonderfully smooth. I would recommend this highly to anyone, if only for usage on that oft overlooked area.

Feels as if you just had a facial

I just love the way that Lancome Absolue Premium makes my skin feel. After I shower I apply this product on my face-wish I could afford to use it as a body lotion (expensive)- nonetheless, it makes my skin feel so hydrated and EXTREMELY soft. It's kind of funny because after I apply it, every once in a while I like to feel my face cause' it really does make your face feel that smooth. It soaks right in and there is absolutely no greasy or oily feel whatsoever.
Back
to top