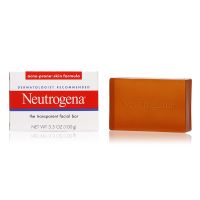 PERFECT Soap for Acne!

Neutrogena's "Facial Cleansing Bar for Acne-Prone Skin" is so misunderstood and under-appreciated! Though I don't use it often now, it made a huge difference in the way I looked when I was troubled by acne or cyclical breakouts. It is formulated to deep-clean skin. It is hypo-allergenic, lathers wonderfully, and rinses thoroughly. One of the key ingredients in here is Glycerin--yes, Glycerin! ...read moreYou see, those suffering with acne are already most likely using products containing Benzoyl Peroxide or Salicylic Acid which dry skin. This gives skin a break, ridding it of these so that it won't be overly dry and peel. This more gentle approach eventually results in clear skin. Neutrogena KNOWS what they are doing, and I am still thankful for this!

Not Bad

I've tried other Neutrogena acne washes with decent results, so I decided to give this one a try. It does an Ok job, I have persistent adult acne so it didn't clear it up and it didn't make it any worse. It did dry my skin out a bit at first, so maybe only once a day would be better. Overall OK.

not great

All the product did was temporarily dry out my skin. It did abosolutely nothing for my acne. I could have just as easily used a regular bar of soap on my face.
Back
to top