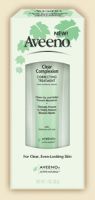 LOVED IT-- but can't find it

I remember starting to use this in my late teenage years, and before moving to some more expensive products. I don't know if I NEEDED to spend more, especially since I definitely saw some great clear skin from this. A little goes a long way, but continued use is necessary. I am certain, however, that this product may be discontinued, and if it is Aveeno has other products that may do the trick!

Love this product

However, am unable to find it now at Walgreen's or CVS - does anyone know is Aveeno quit making this product? It is wonderful to wear under makeup to reduce breakout and at night on oily areas - It not only helps with pimples it also helps with the scarring of pimples. I am just sick I cannot find this product -

Exclusively from the editors at Total Beauty

Get the Buying Guide to see these top-rated products!

Get it now »

Nice clear skin

I have been using Aveeno Clear Complesion Correction Treatment for a number of years, and it has done a wonderful job of keeping my face clear of blemisnes,and other problems. I have been having a hard time finding it in the stores now, and I miss it.
Back
to top