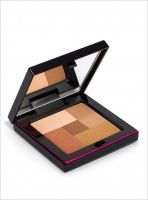 Editor's Rating & Review
The multi-colored quality in the three shade options of Victoria's Secret Very Sexy Mosaic Bronzer makes it adaptable for many skin tones, including very fair-skinned girls like myself. One swirl of the hard-packed, pressed powder will give skin a touch of warmth that doesn't look fake or cakey. (If you want major bronzing action though, try <a href="/reviews/product/583801" target="new">Sugar Cosmetics Tropic Tan</a> instead.) This has a touch of shimmer so slight that it adds a subtle glow without making skin look too shiny -- a big plus. It comes sans brush so use your own, preferably a soft blush brush for the most natural application.
Reviewed by Kristen on 04/03/2008

How we review products
Review subject

Great for a natural look.

Great for Every Skin Tone

This set includes all the colors you need for a dramatic look that is not too shiny, and perfect for a great impression. This has all the perfect colors for every skin tone and evens your skin color to make it look great.

Victoria's Secret Very Sexy Makeup Mosaic Bronzer

I love bronzers, and after seeing this bronzer on the display of VS cosmetics at the store, I decided to try it. The packaging is sleek, the colors are nicely coordinated, and it was very reasonably priced. The formula is very silky and there is some very subtle shimmer. It applied very nicely and looked very natural. The longer I had it on though, I found it oxidized on my skin and started tur...read morening a weird orangy unnatural color, as well as looking dirty. I do have oily skin, and this happens to me now and again with various products, so I wasn't terribly surprised. It may work better for someone whose skin is less oily than mine.
Back
to top