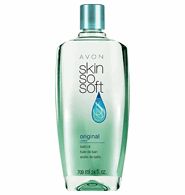 Editor's Rating & Review
This super-moisturizing oil is almost more notorious for its reported multi-purpose features: insect repellent, candle wax, gum remover ... what's not to love? It's basically just mineral oil with fragrance, but it contains BHT, which watchdogs warn has carcinogenic properties, and carrot seed oil, which can irritate sensitive skin. It can also create a dangerous, filmy oil slick in your bathtub. The awkward bottle gets slippery with use, too.
Reviewed by Kristen on 09/26/2007

How we review products
The Ultimate in Bath Moisture

When I first started selling this in high school, I was seventeen. I began to love taking baths with this, but hurriedly cleaned away the ring left around the tub (it came in collectible decanters at that time). I thought that it was removing some imperceptible dirt I didn't know I had! I can laugh now, but I was horrified then. Use it for the silkiest skin imaginable, but clean the tub thoroughly afterward to prevent problems.

So So

Actually feels pretty good, very oily, be sure to clean the bathtub well after using

21 Best Soaps

Exclusively from the editors at Total Beauty

Get the Buying Guide to see these top-rated products!

Get it now »

ew

slippery, sticky, weerd, and its does moisturize, but its not worth it. but a better oil.
Back
to top