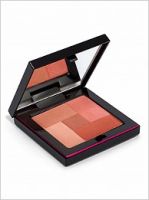 Editor's Rating & Review
Victoria's Secret Very Sexy Mosaic Blush packs five shades into one little compact. A shade or two may contain some shimmer but the overall look is matte. Sweeping your brush across the palette will yield a multi-dimensional, very natural flush. Since the blush goes on lightly, you'll need to build for a more dramatic look. The compact comes with a mirror, but since the blush lasts all day with very little fading, you probably won't need it for touch-ups.
Reviewed by Sarah on 07/11/2008

How we review products
Nice try

I love that you blend the different colors, but I didn't find the actual product very usable, in that I couldn't get much of it onto my brush...it's too flat and doesn't break down at all.

Victoria's Secret Very Sexy Makeup Mosaic Blush

Just like the Mosaic Bronzer, this comes in coordinating shades, but getting those shades to load evenly on my brush wasn't very possible. It applies kind of splotchy, just too many colors to work with and the more you swipe your brush, the more difficult it is to apply evenly. The compact is cute, but for a few bucks more, you can get a nice NARS blush. I won't be buying this again. The longe...read morer I wore it, the worse the color became, it oxidized into a weird orange, like fake tan orange just like the bronzer.

Blushing Beauty

I have to admit that when I first saw these, they were eye catching and I am a person of blush. I love blushes. However, when I purchased one and came home, I opened it and felt intimidated by the different finishes and colors integrated in this one compact but it's actually a gift to have so many colors because depending where you swipe your blush brush is where you emphasize a certain color or...read more you can swirl it around together to get the combination of everything which still looks great. I have this in Wild Child if I'm not mistakened by the name which is a mix of a violet and pinks and when I swirl my brush and apply, it delivers a pretty sheer even wash of a rosy plum and it's absolutely stunning. The mauve, pink, and tan palette is perfect for skipping out on the bronzer because you can sculpt, define, and blush in one step by using this. I have to say out of all the VS makeup pieces they offer, I love this one the most and this by far has impressed me above all the rest of the other products. It is long lasting and nicely pigmented and with a selection of color, you can intensify or soften your blush. I also love the sleek slim black casing that comes with a mirror.
Back
to top