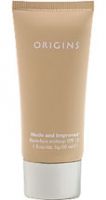 When I need to be polished

I use this when I need to look more put together. It goes on easily and evens my skin. It is so light with the bonus SPF. I wouldn't wear it going to the gym but for the evening out, it is my barely there make-up start.

not for me

I wasnt impressed with the coverage, or the smell. it did nothing to help moisturize...and I think it dried me out. I returned it. Color was OK, texture was nice. oh well.

Awesome product

So far his has been the best foundation that I have used. I have been using it for around 2 years and I am due to purchase another container. I love how it goes on and how it looks once it has been applied.