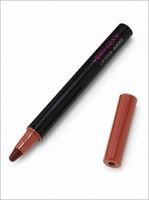 The Best

I have had my fair share of bad experiences with lip stain. I usually end up with the "kindergartener after a cup of koolaid" look and have struggled to find a natural looking, everyday stain. This is it. The colors are natural and don't look one bit little girlish. I especially love the marker like application. It's virtually fool proof, unlike other rollerball applicators i've used. T...read morehe stain is extremely long lasting and I love layering lip balm over it for a soft semi-matte look.

Subtle color

I really like this lipstain. It gives very subtle and natural color...which is what I like out of a lipstain.

Great stain for those that like stains!

As I said, great if you like stains. The colors are meant to give an "i just ate a popsicle" look, and, by definition, aren't blendable, yet I have found you can layer them to customize the color. Use the pen as a liner first, then fill in to ensure even coverage. Having said that, this doesn't grab on to dry spots like other stains I've used, and stays on quite well. I only wish there w...read moreere more colors! To the user who had problems returning her product, I was a manager with the company for years and as long as you bought it in store (on-line and catalogue orders have to be sent back) and you had a receipt, you should have had no problem returning your product- I'd suggest you ask to speak to a manager or ask for the customer service number if that fails.
Back
to top