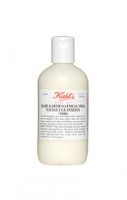 May Be Not For Everyday Cleanser

This cleanser doesn't bubble up like bar soaps so it doesn't work for me as an everyday facial cleanser but I love to use this once in awhile as a facial mask. Somehow it tones your skin and makes skin pores less visible. I use it only on my nose area and forehead (tend to be oily areas) and it's visible that those areas get clear skin tone and so soft.

good for those with a few

This cleanser has been advertised on the Radio station by a person describing this cleanser to be the "solution" for those dealing with acne problem. He described his face as a "bee hive". This person said his face cleared up after weeks of using Kiehl's Oatmeal Milk Facial Cleanser. After listening to this review, a whole bunch of people, including myself, ran to Nordstorm ...read moreto purchase this cleanser. However, they ran out and was on backordered. I than had to order it online for myself and a few other people. I tried it for a couple of weeks now and seen how it worked. Bascially, this cleanser is ONLY for those who doesn't have a severe acne problem. As for myself, I only breakout with a few here and there when i'm near my menstrual. And this works for those who have a FEW acne only. After using this cleanser, my face did not break out as much as it did when i'm near my menstrual cycle. I had a few friends who also used it and did not work for them due to severe breakout This does not contain Salicylic Acid which is the key ingredient in many skin care treament of acne. SO, this is NOT recommended for those with severe acne. THis cleanser contain very natural ingredient, perfect for those with one or two pimples because using Salicylic Acid can over dry skin. Note** For cleansing dirt, oil and debris that causing a few pimples. Not an Acne treatment

Not for oily skin

I have a T-zone and this cleanser does not work for me. It reminds me of the St.Ives apricot scrub that doesn't smell as good. I also don't like the grainy stuff in the cleanser that always gets left on my face a little after washing.
Back
to top