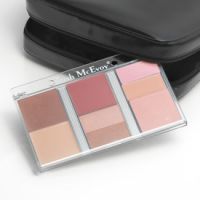 Trish McEvoy Planner Insert Page
As low as
The heart of Trish's iconic planner system!

I've already written a lengthy review of Trish's fabulous makeup planners. These magnetic pages with a "hole-punched" strip (like a paper binder insert) are the heart of the system. You can create custom pages with exactly the colors you want (they work with metal pans from other brands of cosmetics, too, should you want to use them). You can use a single page if you wear the same makeup all the t...read moreime, or have a page for your tanned summer look and one for your winter makeup. If you like to mix and match a lot of different looks, you could have a page of just eye shadows and another of just blushes, for example. Lots of versatility. There are 3 different sizes of pages to match the 3 different sizes of planner binders, but I've used the medium size "Mini") pages in both my "Mini" and my Large planners.

BE ORGANIZED!

Insert pages are a must have...It keeps my makeup organized..easy to find and less mess!!..it's worth the price..and they even provide a makeup bag where you can insert the pages, it reminds me of a little binder..
Back
to top