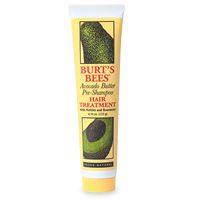 Not for everybody...

I love the scent of this stuff, but don't care too much for it as a conditioning treatment. I have very short hair, so I usually use this as a styling aid. I'll use a tiny pea-size bead for my whole head which helps keeps my hair in place without stickiness or stiffness and helps prevent flyaways. For anyone trying it as a conditioning treatment, I would recommend keeping it off your scalp (unl...read moreess you have a very dry scalp) and using a lot less than you think you need. I'd recommend putting a dime-size dollop in your hands, rub so that your hands are coated and then run them through a section of your hair. Your hair should look a bit greasy, but not like it has goop in it. Repeat until all your hair is coated. If you put this stuff in thick it will take forever to wash out so start slow. Overall a nice, natural hair treat.

Looks Like Caterpillar Guts..Smells Like It Too..

First, the sight of this stuff..I enjoy a natural looking product, but this looks so bad, I thought it had expired in the tube. It looks like green slime, caterpillar guts, you name it, yuck! The smell, in my opinion, is sickly sweet and artificial smelling. I have very dry ends and this just sat on top of the hair shaft, it did not soak in at all. I washed it out immediately after applying it...read more, I could not get it out of my hair fast enough. Like many Burt's Bees products, some are a hit and some are a miss - this is a big miss! I am glad it worked well for some ladies, as for me, I'll stick to my Wen and Monoi Oil.

Great affordable product

First, I LOVE Burt's Bees. This company puts out soooo many great, natural, yet affordable products!! So? THANKS BURTS BEES!!!! As for this product, I use it once a month. Upon using it as a mask for about 30-40 mins., my hair is like virtual silk. It's like you took 5 avocados and smashed them on your head! haha!!! Love it!
Back
to top