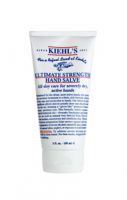 Hand Salve

Awesome! This really moisturizes and removes signs of aging. I use this product several times a day. Very happy with the moisturizing.

Amazing!

Is it possible to actually fall head-over-heels in love with a hand cream? Ohmygosh, YES! Last week I was traveling, and I'm getting ready to do it again later this week. It goes without saying that my skin is in for a rude awakening! As a result of my obsessive hand washing, being in a different climate, and flying– my poor little hands and cuticles are ridiculously dry to the p...read moreoint of being tight and uncomfortable. One of my regular fave hand creams just wasn't cutting it! I picked up a tube of Kiehl's Ultimate Strength Hand Salve on a whim, and as I was unpacking I re-discovered it and had a "Eureka!" moment! It's so Amazing, it deserves the capital "A". Kiehl's Ultimate Strength Hand Salve is a true salve in texture, so it's probably not suitable for use during the day if you're going to be clicking away on a keyboard or trying to grasp anything. It's also got a medicinal scent, similar to Vick's VapoRub yet much, much lighter due to one of the soothing ingredients being eucalyptus leaf oil. I do find this extremely beneficial for applying immediately before bedtime, because hey! Who cares at that point, right? The dense, rich texture of shea butter with avocado and sesame oils in a glycerin base forms a nourishing barrier on my hands that I can actually feel. It completely envelops my hands and makes them much softer and more hydrated when the morning rolls around. I'll definitely be reaching for this as Fall temperatures drop and my skin gets drier!

Soaks in right away!

You may feel no difference at first, but you will soon find out its because your skin soaks it all in (unlike other hand lotions). Most hand lotion leave grease behind, making you think that your hands are now moist but really,.... all that oil actually gets washed away when you wash your hands. However, this lotion actually feeds moisture to my hands. I ended up giving mine to my mom because she loved it so much. I now have to go by myself a new one!
Back
to top