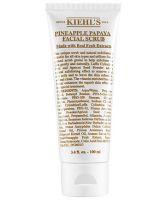 The scrub you're looking for.

This scrub is intense, but the results are amazing! The fruit acids are an excellent exfoliator and you don't really need to "scrub" with the mask to make it work. I like to put this on in the shower and let it sit for a few minutes. Depending on the condition of my skin, I may scrub with it, or just wash it off. Either way, it always does its job.

Good scrub

I've been using this on and off for a few years, and I always wind up being pleased with it. I think the fruit acids are more effective exfoliators than the grains are, but if you leave it on for a while, it works pretty well to soften and smooth. I have pretty sensitive skin and this is one of the few things that doesn't cause any kind of freak-out.

Kiehls is always great!

I use Kiehls for almost everything in my skin care regiment. I love the way that this product feels, smells, cleans, etc. And it is very unique. Kiehls is great!!
Back
to top