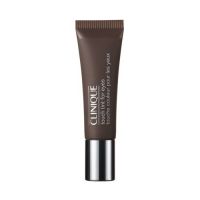 Lasts in the tube, but not so much on your eyes

Just a tiny amount of this will provide full coverage for your eyelids up to your brow bones for an awake, bright look. I use 06 - Nude Sparkle for just that reason, and it works well. However, it doesn't last long on my combination-oily face (even though my eyelids aren't oily at all!), and I often have to reapply or use it in conjunction with eyeshadow powder or foundation to get it to "stick" better.

Good formula, poor colors

I love the formula...but the matte colors...perhaps one or two are just too flat and heavy. Very disappointing. The shimmer product has pretty colors and a better texture, but for those of us with "older eyes" the shimmer just isn't flattering.

good for certain looks

I have been using this off and on for several years. When it first came out, there were several colors to choose from. Now it's down to 2. The formula is perfect for me; mature skin, red hair, fair skin with some slightly red undertones. I use both colors and like them both. This really works well as a base or a subtle look and does a good job of neutralizing red. Staying power galore. Wouldn't recommend it to the younger crowd looking for impact. Great for the older girls.
Back
to top