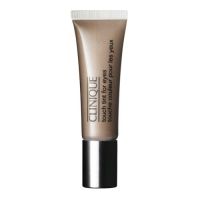 Love it and it lasts forever!

I have this product in Gold Glimmer and love it. It's great on its own, or with a light layer of powder eyeshadow on top (it adds a cool gold shimmer/undertone to whatever you put on top). The color is great--just a good amount of shimmer without looking like it was glitter eyeshadow for a little kid. I've gotten a few compliments while wearing it and friends wanting to buy the same thing! This pr...read moreoduct lasts FOREVER--although the tube doesn't seem to be very big, you get a lot for your money because the product is so incredibly pigmented and you only need a small amount. Another thing I like about Touch Tint is that you can use a little for subtle shimmer or you can easily add a lot for really bold shimmer. Just put a little more on your finger and rub it on! Super easy to apply and looks great. Also, I'm bummed they don't seem to have it on the Clinique webstie anymore :( Get it while you can!

Good, not great

I use this as a primer when I want to do a subtle and natural looking eye. It works well, but I have tried a lot better products. The shimmer is hardly noticeable, and I get more product on my finger when I apply it than on my eye when I am done. It doesn't crease and lasts all day, so that is great. For the high price and medium delivery, I will not be buying this again.

Review subject

A little too dramatic for my taste. Pretty and long-lasting though.
Back
to top