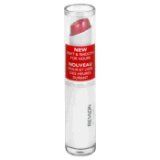 Editor's Rating & Review
"Ahh, just a little bit longer ... " When Frankie Valli and The Four Seasons released "Stay," Revlon should've taken notes. This lipstick tube (the only thing "long" about the product) does hold a silky, smooth lip color, but it won't last. Mine faded after a few smooches and a lasagna dinner. Where it went, I shudder to think -- my boyfriend's cheek was color-free. (The sauce on my fork did look a little funny ... )
Reviewed by Charli on 09/28/2007

How we review products
Love colorstay

all the products in this line really work, and the price is great

Did Not Stay

I agree that this is not a long-lasting lipstick. It dried and flaked-very amazing to me since I like their other brands. The colors did not go on true to the tube either. Yuk

Ehhhh

To me, the packaging was nice, but when I put it on my lips, it felt a bit weird. It gave off a nice color, could be more vibrant, but overall, don't waste your money on this.
Back
to top