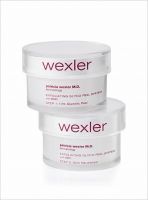 not worth the money

it burns and i had better results with the MD skin care pads. it does soften but didn't do much for my acne.

Wexler peel for acne and pores

I am 28 and first did wexler when I was 24 due to adult acne and BIG pores which caused chronic blackheads. I used it as directed the first 2 times I had the product and noticed mild, but effective results in acne taming. The third time, last week, I used it but did a #1 peel pad and waited 5 minutes then did another, waited, then another peel pad before neutralizing with 2 #2 pads after it had be...read moreen a total of 25 minutes. This time it worker GREAT! Yes, it stung, yes it was ed for a few hours, BUT if you want to get rid of blackheads, shrink pores, and tame adult acne this is the way to go.

It was okay

This systems is alright but I found if I skipped it altogether, it didn't change the way the rest of the Acnescription system worked. I just use the cleanser, serum, and moisturizer and get the same results. For those that only tried this peel, I suggest you try the rest of the Acnescription system before writing it off.
Back
to top