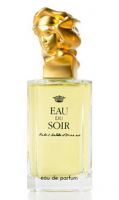 Sisley Eau du Soir
As low as
Awful

A coworker of mine wears this perfume; when she sprays it on in her office, I can smell it in mine, and it gives me an awful headache! It's the kind of perfume that gets in your mouth, and screws up your sense of taste for a while. And honestly, I'm not at all fragrance sensitive - I wear perfume myself, and very rarely have this kind of reaction to a scent.

Great For Oriental Lover

I'm curious about this perfume, too. Maybe because it's expensive, maybe because it's not easy to find in my country. However, I'm manage to get the mini. It is opened with a quite harsh citrus smell. I got a funny feeling I will not fall for this perfume. However, given some time to settle down, Eau du Soir show her inner beauty. Yes, it's beautiful. It remind me of a high class lady around 35....read more It could be use as everyday perfume, although I won't choose to do that. So expensive. It didn't last long on my skin. Only about 4 hours. Soir de Lune stay longer on me. Until I manage to be a wealthy woman or manage to snatch a rich husband, I would stay away from Eau du Soir. Haha...

Deep and Soulful

I am very picky about my scent, and I don't like trendy fragrances, my favorite of all time was Sonia Rykiel 7sens, which has been long gone, and it makes me cry. My friend Dorothy came back from France wearing this scent, and it blows me away... it IS Deep and soulful, but with hints of citrus, specifically grapefruit. Of course it smells differently on everyone, but I am pleased as punch that I ...read morehave found this somewhat obscure scent. Too bad it is so expensive, it's wrecking my budget.
Back
to top