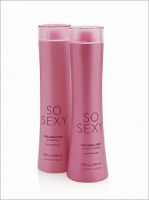 Not that great

I used these for awhile when I was working at VS (employee discount!) but I was never very impressed with the results. It got my hair clean enough, I suppose, but even with the discount it was too pricey. Scent was nice!

Great smelling shampoo and conditioner!

The scent is amazing. I felt like the shampoo and conditioner left my hair manageable and silky.

Mediocre Name Embellished Products

The scent of the So Sexy perfume lingers in the shower while you're lathering up your mane. But it's not all about the whole "So Sexy" name that makes you feel like it's special, it's the Victoria's Secret label which creates a big disappointment for me. For almost ten dollars a bottle, I expected a salon quality product but there isn't any high end product factors in here except the w...read moreafting So Sexy eau de toilette aroma. This product was formulated for limp hair which puzzles me because it doesn't volumize nor make strands anymore vivacious that it normally is. Although my hair was easy brush after this, I find that I can do just about the same with any mass retailed product such as L'Oreal or Herbal Essences that also have perfumed hair care. Is this a must have? Absolutely not. It's just a luxury to have with ordinary qualities; but if you know that it doesn't perform as well as it should and you still decide it needs to be in your shower because it's Victoria's Secret, you may need to check with a therapist for insecurity issues or simply buy sexy lingerie from them instead, it may make you feel better than owning this shampoo and conditioner set.
Back
to top