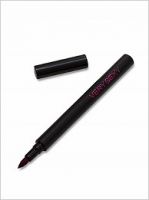 Victoria's Secret Very Sexy Makeup Liquid Liner Pen

Vs cosmetics are pretty hit and miss and this is definitely one to pass on. This does go one nicely, but it just doesn't last. It just ran off as the day went on. There isn't anything good I can share about this product at all.

I miss this!

I had one in brown and it lasted me well over a year. I used it EVERY DAY and I finally had to give it up because the tip was worn down and the pen was getting too dry. I didn't want give it up! I was sad to see that it was discontinued because I would have bought more! This pen was amazing at lining tip lid and bottom lash-line and lasted all day for me. VS please bring this back!

Best liquid eyeliner for non-professionals

Bobbi Brown says that she hates liquid eyeliner because it's so difficult to apply, but she said that before this awesome pen came out. It comes in several colors, and it's ridiculously easy to use. I've used Lancome, MAC and L'oreal liquids, and they all came with tiny little brushes that would flick the liner goo everywhere and make a mess. This pen is pretty much mess proof,it can't spill an...read mored the applicator gives you great precision. It doesn't last as long as the MAC and the line isn't quite as dark, but you can just reapply. By the way, it's about $12, or half of what the other brands sell theirs for.
Back
to top