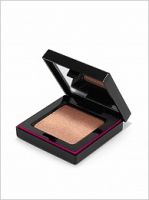 Sheer and shimmery

Light pink "Bunny" is more sheer than they look from the package. I apply it evenly twice but it still looks sheer and shimmery as well as a bit chalky. I think this color does not have enough pigment for my skin tone. I went back to a VS store to see if there was any other color I would like, but their color selection was quite limited. I will stick with MAC for eyeshadows.

I like it.

This is an OK eyeshadow, it performed as expected. It's smooth, not talcy, and the colors selections are decent. I like the color Pewter to achieve the smokey eye look. It's priced kinda high, since for a few more dollars you can get top notch eyeshadows from other brands...

Sparkles From Speckles!

I swiped this on and I must say that the pigment pay off is quite rich in this sleek, glossy square casing that is eye catching. As they are blended with other shades, they don't blend as well with each other as I'd like to as they seem to streak if you don't blend them fast enough and as they mix with bodily or facial oils, you may find that they won't last too long without a base (primer) benea...read moreth them. Nonetheless, they are worth the price tag considering the beautiful glimmery colors they come in and as long as you prep your eyes beforehand, you shouldn't have too much of a problem. One thing that I noticed is that application is significantly different from the casing because it doesn't appear as glimmery on the lids when dispersed and blended as it looks in the casing. You'll find the glitter much much milder on and that it only adds a subtle glamorous touch to your overall lid. After all though, who would want to look like they're about to overshine like a disco ball?
Back
to top