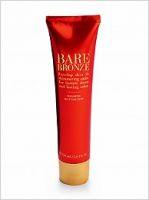 I've had better.

This is not as moisturizing as I thought it would be. I like the shimmering particles in this - so pretty! Great for a night out on the arms and legs. The color is very gradual, but it does develop to a nice bronze. The smell is delicious, but overall this wasn't my favorite self tanner I've ever tried.

impressed

I have used many self tanners and wasnt expecting much from this, but bought it at the semi annual sale and gave it a try on one leg. The color comes out pretty immediately, and I believe layers can be added to increase color. When compared to my bar leg, the leg with the tanner looked tanner, healthier, and had a glow. I dont love that there are sparkly particles in it, but its def good for go...read moreing out when you dont want to look like casper. Does seem to take a bit of time to dry though, and I worry that the color may leak onto clothes, although it wasnt a problem when I first tested it out. so far so good

orange glow

its not taht great and the tube is small.
Back
to top