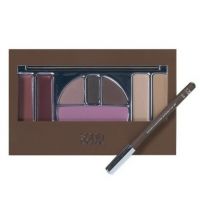 Disappointed

I was very disappointed with Sonia's face palette. In an attempt to downsize on a recent trip and having bought other Kashuk product, I purchased this at Target and tossed it in my luggage untested. The next morning at the hotel, I applied the palette and was disappointed not only with the colors but the consistency of the lipstick and the concealer. The eye shadows were good color choices and consistent with her line, as was the blush.

loved it

I had this compact a few years ago. I loved the colors and used it all up. The shadow colors where perfect for day and adding the dark brown shade made it perfect for night. I want to know what the name of the medium ginger shade. Does any one know what it is?

Hello Good Buy lol

I thought this product was very nice. The colors were very natural and accentuated my brown eyes. The liner was good although I primarily opt for black. I didn't care too much for the blush though, it was coordinated well with my hair but not at all for my skin tone. The concealers were nice but one of them was to light and the darker one was kind of off in color. I think it would've been nice to match colors to skin color and hair. I would reccomend this product to friends and gift it.
Back
to top