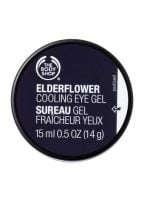 The Body Shop Elderflower Cooling Eye Gel
As low as
Tried it in the store

I sampled this at the body shop and didn't really like it. It is a gel that feels cool to the skin but seems that if you get some in your eye you'll be sorry. I will stick to my burts bees royal jelly eye cream.

The Body Shop Elderflower Cooling Eye Gel

I sampled this at The Body Shop. I am always looking for eye products that sooth, I have allergies and my get get puffy and irritated when my allergies are flared. Within seconds of appling it, it didn't cool at all, it started burning my eyes and I started tearing up, and even though I removed it as quickly as I could, it left my eyes puffy and irritated for the rest of the day. I don't know w...read morehat exactly in the product set me off, my skin really isn't sensitive at all, but this gave me the worst reaction I have ever had with an eye care treatment. This is a definite no-buy item for me!
Back
to top