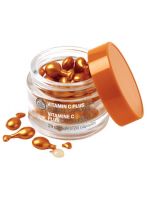 Even the sales associate said it's terrible

I got free samples of this so thank goodness I didn't have to waste my money on it. It smelled like a rotten orange compared to its fellow sweet citrus smelling products and it didn't do anything special for my skin. Want a better product? Use The Body Shop Vitamin C Boost. It does the same thing as this time capsules and smells much better. Pricey? Yes, but worth every penny and it lasts much longer.

Not worth it

Hasn't done much . Smells nice and makes skin soft though

Not too bad, but expensive

I really like this product (I got some samples) and it works really well as a moisturizer, but it does not live up to its claims of evening skin tone. And it's really expensive: $29 for 28 small capsules. It's just fancy moisturizer, but not much other than that.
Back
to top