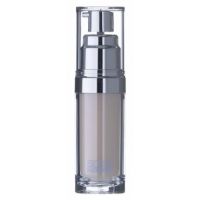 well....

first of all it has a really nice smell! it goes on nicely, doesn't give me zits or a rash and the moderate coverage is good for me... however it was really hard to figure out which shade was the best and i ended up buying a shade that was way too light and also was like weirdly separating into pigment and oily stuff...only to take it back and get another shade that seemed dark enough but... wasn...read more't. next time if i buy this again i will buy a shade that seems waayyyy too dark and hopefully that will be the right match!

Good and Bad

I have used Sonia's tinted moisturizer with great results, and wanted to try the foundation for more coverage. The shade I chose matched my skin very well, and I loved the medium coverage. It felt good on the skin, and lasted all day. But, after about one and a half weeks use, I started to break out terribly. I had a hundred little bumps along my hairline, and some large ones on my cheeks, wher...read moree I rarely break out. I usually apply liquid foundation with a sponge. After a quick application one morning using my fingertips, I had to wash off Crisco-like remains. Pore clogging uncovered. Perhaps this formula would be better for dry skin rather than my normal to oily type.

Perfecting???? Hardly!!!

A major disappointment considering how great her concealer is. It would wear off in less than 2 hours after putting it on and did not conceal or perfect!!!! Save your money!!!!