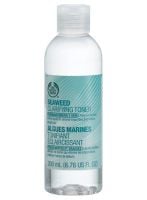 Doesn't do much

I picked this up from The Body Shop because I wanted an alcohol-free toner. I don't use toner everyday because I feel like my skin doesn't always need it, but it is nice to have for those extra oily days or when my skin could use a pick me up. I have combination skin, so the Seaweed line usually appeals to me the most. This is OK, but nothing spectacular. It has a sweet scent that lingers after...read more you use it. It is a fairly strong scent for me and I would prefer something unscented or less fragrant. It does have a slight tightening affect, so I don't like to use this when my skin is feeling more dry. This actually stings my skin a bit which I don't like. It feels very cooling. Perhaps on a very hot day I would like that, but on average nights, I don't like the way it makes my skin feel. This toner is very affordable. The almost 7 ounce bottle costs $12.50 and The Body Shop always seems to have specials (buy one get one half off, buy two get one free, etc.) that bring the price down even more. The Body Shop boasts that it uses sustainable and high quality seaweed for this, which may be true, but there is also a lot of other junk in the ingredients list that I would rather do without. I have moved onto using a gentle toner from Lush that is more soothing and refreshing than this one from The Body Shop and has much more natural, whole ingredients.

It's alriiiight...

I didn't see a decrease in my usual oil like it promised. It did get the rest of the muck off my face, but there's no refreshing feeling as with Clinique's clarifying lotion or any other toner. Overall a pretty average toner with a light smell and no sting.

Works ok but no special ingredients

This works fine--gently removes traces of soap and dirt without stinging or burning. However, it lacks any extra ingredients such as alpha hydroxy acids that would really make me want to keep using this over other toners for combination skin. The price is good for such a large bottle, though.
Back
to top