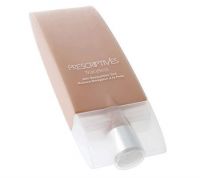 LOVE

I love this stuff! It doesn't cause breakouts and it's soooo sheer. I use a foundation brush to first apply then blend with my fingers. I've never found anything that matched my skin color like this stuff has.....Remember though that it's really sheer so if you want coverage that's more like foundation then you would want to try something else.

"Traceless"

This product goes on so smooth and is great for even, light coverage. My skin is very fair so i had to wear a sunscreen with it even though it does have an SPF 8.

Prescriptives Traceless Foundation 1 oz with SPF 8

This is a nice foundation - blends very well with skin tone and leaves a nice finish. I find it does not truly diminish the look of lines and pores. Fairly expensive for the amount.