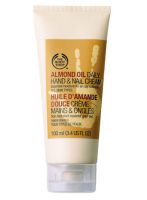 Best Hand Product on the Market

This is the best hand product I have used. It can even become addictive! It smells wonderful and has a very subtle scent. It moisturizes all day without leaving my hands greasy or sticky. Highly recommended!

Moisturizing

I use this cream on my hands and cuticles at home almost everyday. Since I paint my nails one to two times a week and use acetone to remove my polish, my hands and cuticles get very dry. This lotion really helps offset the damage I do. The cream is concentrated so a little product goes a long way. I love that this does not feel greasy or at all heavy on my hands and fingers. I usually go stra...read moreight into what I'm doing without having to worry about slippery hands which is awesome. The sweet almond scent started out quite nice, but as I have continued to use it, I have become really tired of it. The scent is too sweet for me and at times I find it really overpowering. I really enjoy the moisturization that this cream provides to my hands and cuticles, but I will probably seek out something else when I'm finished with this because the smell has becoming sickening to me. However, if you like, or don't mind really sweet scents, you will probably really like the smell of this. The cream itself does a great job at its intended purpose.

Lovely scent

I just bought this, so I still have to use it more in order to give a proper review. My first impression is this has a lovely scent and makes my hands instantly soft; the downside is that, as another reviewer said, the packaging makes it difficult to control the amount of cream that comes out of it. As soon as I opened the tube a lot of cream came out and that was a bummer. Still, I will probably like this, I'm a huge TBS fan.
Back
to top