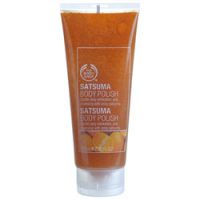 Not the best exfoliator

The Body Shop's Satsuma is one of my all time favorite scents. It's just so bright and happy with all that citrus and it really is awesome for waking up in the morning. This particular product, though, is probably not something I will purchase again. It does have the grainy bits that should do the exfoliating, but I'm not sure there are enough of them to really do much. The gel lathers nicely, but...read more that's not really what I'm looking for in a scrub. There is some exfoliating happening when I use it, but I'm used to scrubs that are a little more hardcore. So I guess if you're looking for a more gentle scrub this might be one to try. This also comes in a relatively small tube, so I feel like I'm going through it pretty quickly, even though I only use it maybe once a week.

Unsatisfying

This product is a gel that contains things like seeds for texture. I really wanted it to slough off the dead, itchy skin that plagues me during the winter. Unfortuantely, the gel the exfoliators are suspended in cushions them too much, which makes for a weak exfoliation.

The Body Shop Satsuma Body Polish

This is odd for me, since I am not a fan of citrus scents. But something about this one really works with me. Satsuma has been described to me as a "light and zesty" (a friend) and "like a bowl of oranges" (family member). All I know is it wakes my dead butt up in the morning when I use it! Because I think the fragrance would probably not compliment any of my perfumes that I co...read moremmonly use, I haven't bothered with the body lotion or body butter. I've tested them at The Body Shop, and found them as moisturizing as any other lotion or body butter I've used from The Body Shop. The shower gel and body polish I did purchase, and like I said; wakes me up! However, it left my skin a bit dry. I think I'd prefer these two for use in the summer for that reason. Would I repurchase? Probably if they are on sale. Because of the fact that I won't use the whole line, and will probably limit my use to warm months only, it's not worth the full price, IMO.
Back
to top