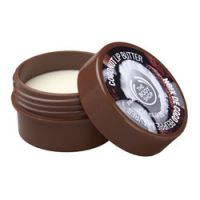 Great for spa days

Really nice a hydrating, but I warn you this really is like butter. Great if you're doing a full body spa or a makeover but I would definately not wear this out in public as other reviewers have advised because if looks like you smeared white paint all over your lips or as if your mouth has come back from the dead. Nice smell and is very creamy and hydrating. Also doesn't having that waxy, greasy, grainy texture that some of the other lip butters have.

Mmmm...Sweet Relief

This is the Holy Grail of lip moisturizers in my humble opinion, and I've tried quite a few for my chronically dry lips. I've tried everything from Chapstick to Fresh Sugar Lip Treatment, which is quite fabulous but a bit on the pricey side. I snagged The Body Shop Coconut Lip Butter when I had a Groupon burning a hole in my pocket recently and I'm so glad I did. It goes on very smooth and buttery...read more, not the least bit greasy but a little dab will do ya. It's more of a lip cream. It is such a pleasurable experience swiping this stuff, it can be downright addictive! Fair Trade coconut oil and beeswax are just what the doctor ordered for my parched pucker. And it lasts overnight when I put it on my lips before beddy bye. Doesn't interfere when I put lipstick on top of it either. The smell makes me feel like I'm in the tropics all year round. Will buy again and again.

Not my favorite, but it's smooth and feels nice

I didn't really have much hope for this product when I got it and I think I was right...almost. The packaging is a little inconvenient, so this ended up turning into a night balm for me. The scent is light and appealing. The color is white and not exactly sheer, I would avoid wearing it in public unless you wear the teensiest amount. However for me to really feel the hydration, I had to put quite...read more a bit on. I like coconut, so the flavor isn't bad. I don't think I would buy this again, but if given as a gift I would use it.
Back
to top