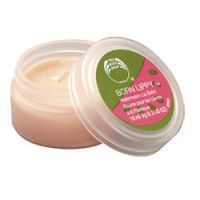 Wasnt Impressed

I got this lipbalm because a fellow beauty blogger recommended it.. but it just wasnt moisturizing enough for me. I tend to get really dry lips that will sometimes peel because its so dry. The texture is nice, its kind of jelly like, and it has a slightly glossy finish. You need quite a bit to really get it on your lips because it applies just a thin layer. The smell is fantastic too! However, it ...read moreonly lasted about 1-2 hours on my lips and then my lips were dry again. So it comes off really easily and you need to reapply a lot throughout the day to keep your lips moist. It was 2 for $10 when I got it, but I think there are way better alternatives for around the same amount of money.

Review subject

I stopped at the body shop at the airport to pick up a few things and I saw the balms 2 for $10 so I purchased this and the pink guava. Both smell great! No sweet taste though, no taste at all really. Need to constantly reapply, not as moisterizing as other balms but I do love the smell. It has a slight shine to it. But overall probably wouldnt purchase again.

Awesomeness

I loved it! It's soft on lips, moisturizing enough if you don't tend to get extra dry lips and has the best smell in the world of lip balms. Whenever I would put it on my lips, it literally would make me a happier person!
Back
to top