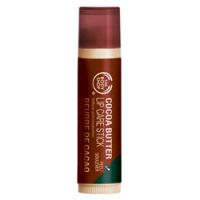 Almost unscented

I like this chap stick because it just about unscented and works very well. A good bargain price too.

Best and gentlest lip balm ever

I get dry dry sore lips in the coldest parts of winter and this lip balm is the only one I can use when my lips are very dry, cracked and sore from wind burn. This product is the only one I have ever used that doesn't make my lips hurt more, it doesn't sting or irritate when my lips are cracked and sore sore. If I put it on before going out in the cold it helps protect my lips so I they don't get ...read moresore from the cold and wind. It is creamy, not waxy, and it has a slight chocolate flavor. It's also good in the summer for very hot dry conditions and for after sun use. No sunscreen, but that doesn't detract from this wonderful lip balm

BEST EVER

My lips get so dry I can't leave the house without something on them. But every other lip balm stick is so waxy. An hour later I'm peeling it off my lips. But not this stuff. When you put it on it feels slick and glossy then it absorbs and your lips feel smooth and soft. If you hate the waxy then crackled feel of chapstick then this is what you're looking for. Love it!
Back
to top