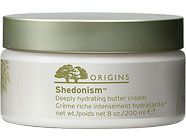 The best scent

This Shedonism body butter is the thickest, creamiest, best body butter I've ever had. I love it!

Heaven in a Jar!!!!

I can't say enough about this heavenly body butter cream! When you first open the jar, the scent of a dream wafts up to your face and one can only sit for a moment and blissfully take it in. Upon looking at what's inside, the eyes behold something resembling whipped cream and one is tempted to dip in a finger and taste it. Pure white! Then there is the application. It goes on like an oil that...read more one might imagine Cleopatra used. It moisturizes and one can feel it seeping deeply into the skin, healing and smoothing all trace of dryness away. I use this when I want to feel and smell especially luxurious. Ladies, treat yourself like the queen you are and get yourself this little jar of heaven!

a bit strong

While my wife loves the way this lotion smells, I find it is too strong for me. I don't really like how greasy it makes her skin feel. I like the smell but I often feel it is too strong. I only like the smell after a few hours have past.
Back
to top