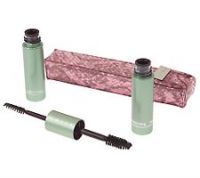 Holds that curl!

This mascara does a good job for volume and length. Surprisingly it holds the curls as well! (I have stick straight lashes, usually only waterproof formulas can hold my curls) The only downfall is that it does transfer (slightly) to my bottom lash line (after about 8 hours of wear). Thus giving me a bit of the panda eye.

Too clumpy

I found this to be too clumpy and messy. It made my lashes look like they do when you have halfway washed off a volumizing mascara. They stuck together and neither wand did anything to improve my lashes. This is one of the few mascaras I would prefer to not even attempt even if I were on a desert island and had no other mascara. Well, maybe not then but in any other scenario, definitely.

Mally's Mascara - F-a-n-t-a-s-t-i-c

What's with the rating review about -four reviews but Mally has (3) reviews with 10 STARS - that don't make sense. I am making it the 4th (10) STAR rating. Now for the Mally's mascara it is the BEST on the market. In fact I just left QVC and the Customer Service operator just told me that today it is selling like mad - Mally has a big sale going. All her products are superlative but the mascara is exceptional. Don't hesitate to purchase it.
Back
to top