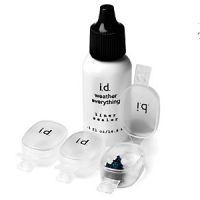 best

I have a real problem with my lids. They do not seem able to hold a shadow or liner with smearing it onto my brow whenever I blink my eyes. I have tried multiple products out there and this one falls in the middle of the pack. I do think that it provides some longevity to the liner staying in place. I find it comparable to the product by Too Faced. One thing I really do like about this product...read more is that you can use the little pot to put the liquid in an mix with your loose liner. Then you can wash both the liner brush and the pot so you have endless opportunity to use different colors and also not contaminate either the pot that the liner is in or the brush. I have mentioned in a previous post that I work in healthcare and I can not tell you how many times I have come across gals who do not change out their eye makeup or do not wash brushes, etc. and then get an eye infection. Okay, enough harping on hygiene and back to the review ;) It is key (and will save you product as well) that you use the tiniest drop of the fluid to mix with your liner. Also key is to use the tiniest bit of liner. This stuff will last you forever which also makes it a good bargain. It should be pretty fluid so you get a good line. You can always add more of each but not take away so be sure to be very sparing in the amount of each you use initially. I do think they beat all the others in the packaging and use of product for those reasons alone. That makes it the number one for me.

have no fear...Weather Everything Liner Sealer is here!

You don't have to fear humidity, rain, sweat. When They say Weather everything, they mean it. It's a great product. The little wells to mix the sealer and the product is great and convenient. I use this product with my liner shadow even when I don't have weather to fear. It makes applying liquid liner 10 times easier. It helps the liquid liner to set rather quickly which means no worries of wh...read moreat a mess will happen if you blink after applying the liner. It's a great price for such an amazing value. It's made a world of difference.

I might still have to master this

I've had my weather everything for awhile, and it might be I can get the consistency down. But here everyone is giving a higher star, but when I put this one is looks a bit cakey. I've tried all different kinds of brushes, but same result. I like the fact in comes with 3 mixing wells and full instructions. But for now I'm gonna keep trying.
Back
to top