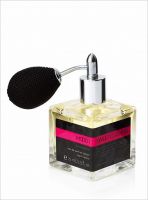 mmmmmm.....

i love sugary scents. this one and aquolina's pink sugar are sooo sweet, you really miss being able to taste them. plus this is very lasting and the bottles really cute! my husband doesnt like when i only wear 'candy smells' b/c he thinks its too little girlie for me, and he feels bad ravaging me, so i layer this with a richer floral to make it more 'womanly!'

Worn this for almost 10 years!!! MY FAVORITE

I absolutely love this scent... I layer it from shower, using the oil, then lotion to Parfume spray... To warm the scent up I also use Vanilla Lace.... I can not tell you how many compliments I have gotten over the years. No matter where I am. Men tend to absolutely love it as well. So sad Victoria's secret discontinued it...

Smelling sweet

Not for people who don't want to smell sweet all day. I love the way it smells but if you don't have a sweet tooth then its not for you. Long lasting and love the atomizer. Great product.
Back
to top