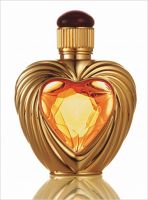 OMG wow!

I tested this when I went shopping yesterday since I was curious about the scent. I am absolutely in love with this. It's sweet with a little musk and it seriously last all day. A little does go a long way. I only spayed one squirt on my inner elbow and an hour later was still able to smell it even after putting my jacket back on. One bottle can last months. After I use up the perfumes I have now I will be getting a bottle of this.

Old lady perfume with an odd twist

Another classic old lady perfume with a strange floral musky twist that made me wanna gag.

rapture

Love, love, love it!
Back
to top