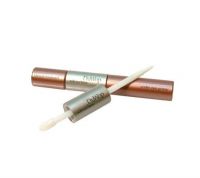 DuWop Subsurface Primer
As low as
great product

i AM old enough to have to worry about fine lines, and the undereye primer is awesome. it fills in my lines and smooths out my under-eye area. my concealer glides nicely over it and stays in place. i still break out on occasion, and the acne-treatment end works wonders. salicylic acid is great for treating pimples because it can be applied any time of day, not just at night. one tiny dab of this stuff and my zit is gone by the next day. awesome product.

I wouldn't waste my money..

This two-sided tube features blemish treatment on one side with a lip-gloss-like wand and an under-eye primer via a thin brush on the other, both "pre-concealer treatments." The blemish treatment isn't anything to write home about and the primer seems unnecessary due to the lack of a noticeable difference. The expensive price tag on one side, a weak product on the other; these combine to produce an undesired item.

One side is great!

I love the anti-acne side, and it works really well... that is the small side of the tube. The other side is for under your eyes, and maybe I am too young for this side of the tube yet... but it does not do much for me, and in fact makes my under eye makeup fall into my small wrinkles by the end of the day. So... DuWop... sell the 2 separately!
Back
to top