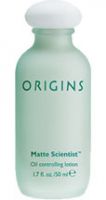 Didn't work for me at all.

Got a sample of this from the Origins store (not many things work for my incredibly oily skin, and I get nervous about products causing breakouts, since I finished a course of Accutane not that long ago). PROS: Doesn't break me out/clog pores. CONS: Expensive (small 1. 7 fl oz bottle for $25). Strong smell. Doesn't keep me matte at all. Hate the little bottle with a twist off lid--you can buy a...read more pump for $1 though. I'm really glad I didn't buy this product, because it doesn't work for me.

Is OK

I have oily acne prone skin and while this product did controle the oil, it did nothing to control the acne. This is not a moisturizer, but a lotion that controls oil. Because my skin is so oily, I do not need a moisturizer, so that was not a problem for me. The lotion smells good and did a good job of making my skin matte when first applied and maintianing it oil free a little longer throughou...read moret the day, although the oil does eventually shin through. But it did nothing to control my acne (which is what I was told it would also do by the origins clerk), so if you ar looking for acne control, this is not the product for you!

Not for Arizona Dry Heat

I have an oily t-zone and my makeup just slides off my face. I live in Arizona where the heat is a "dry heat" so this particulat lotion is just not enough to keep the rest of my face hydrated. The lotion just seemed to evaporate instead of soak in. Also, I really didnt see much of a difference in how oily my face became as the day went on. Maybe its just the climate.
Back
to top