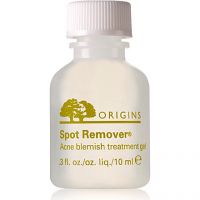 Origins Spot Remover

After trying Night A Mins (based on Total Beauty reviews), I knew I wanted to try more Origins products. I read through more reviews, and decided to try the Peace of Mind Sensory Therapy, and while on the Origins website, I found this Spot Remover and decided to pick it up as well. Origins is an awesome website! I purchased the Spot Remover ($13.50) and the Peace of Mind ($11) and I received fr...read moreee shipping, a deluxe sample of VitaZing, and a deluxe sample of A Perfect World moisturizer. That's pretty incredible, right? Anyways, I love this acne spot treatment. I know that for adult acne, salicylic acid is key to fighting breakouts. I put this on the breakouts, and overnight, they were dried out and gone! I have used benzoyl peroxide and sulfur, but nothing works as well as this treatment. You don't need much, and you want to keep the product restricted to your breakouts to avoid over-drying. Being able to use natural products that are high performance and good for you, are the benefits of choosing Origins products. Give this a try if you have adult acne and/or are over 30 years old. You have nothing to lose, other than your breakouts!

So So

I've been using spot remover for two years now and it helps me when I feel a pimple coming but not with ones that pop out overnight.

Exclusively from the editors at Total Beauty

Get the Buying Guide to see these top-rated products!

Get it now »

Works fast!!

Usually overnight. Apply to zit or zit to be and it forms a barrier and zit dries up and falls off. It really smells bad and really stings, but it really works! I buy it for my son, my neice and myself. It is hard to get small amount of product out because you have to squeeze the little tube and you always get a big glob.
Back
to top