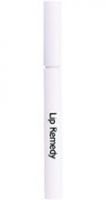 I cannot leave house without this

Ever since I start using Origins Lip Remedy Soothing Lip Saver, my lip is smoother. It smells great, a bit minty. It lasts for some time too. This is a great item for all year long.

Very Good

The helpful saleslady at origins noticed my extremly chapped&dry lips while I was trying on lipgloss. She offered me this and my lips were magically soothed and hydrated. I'd been slathering on chapstick all day and figured i'd need to exfoliate as well but this little tube did it all! However the smoothness and hydration dont last very long and youll need to reapply. And after two months of u...read morese im scraping the bottom of the tube. This is however VERY nice and I would still reccomend it.

great for lips

I love this product. It makes my lips feel refreshed and moist without being greasy. I first found it when my sister in law brought me a first class goody pouch from American Airlines and I have been using it ever since. I buy the three pack and it is a great deal. I love putting it on at bedtime to keep my lips moist through the night.
Back
to top