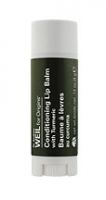 Almost perfect.

I absolutely love this product. The first application of a new tube of this stuff isn't so smooth, but once you get it started, it glides on really smooth. My lips get dried out very easily, but since I started using this lip balm, my lips rarely get dry at all, even after the stuff wears off (which, as my only real complaint, happens much too soon). Overall a really nice product, and really worth the price.

A little pricey.

I really like it. I like the thickness of it (although I like thick lip balm). Nice smell. Refreshingly not fruity. It's a very clean, spa, aromatherapy scent. If it was $6-8 I would be all about it. Small let down: no SPF. Great company. No animal testing!

Pretty good

Although a bit dry when it goes on, it is a nice evening treatment for me. IF you like regular suzy chapstick, you will love this!
Back
to top