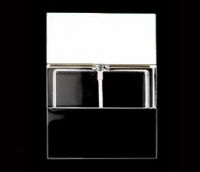 MAC Creations MV: 2
As low as
Vanilla

Put a drop of vanilla behind each ear? Well, you COULD or you could blend it with a couple things like lemon and lavender. But for some reason MAC needs to add vanilla to everything, so the vanilla bourbon and vanilla mousse didn't surprise me. It was just too much vanilla for my taste. Try it. You may like it. Or you might find that you smell like tonight's dessert.

Vanilla, without smelling like a Twinkie.

Really, what else is there to say? ;) No, seriously...this vanilla is soft and sultry instead of the gooey sweet ones out there that smell like food. It's sensual and warm. Unfortunately, it doesn't last all that long but I get tons of compliments on it. The saleslady tried to sell this to me as 'inexpensive.' If you wear lots of fragrances, fine-it's $22.50. But it's only 1/3 the volume of an av...read moreerage 1-point 7 oz bottle elsewhere, so truly it's MORE expensive than most EDT, at $67.50 for the cost of 3 to equal it out. For me, since I am noncommital about anything other than Tom Ford, MV2 is an awesome choice.
Back
to top