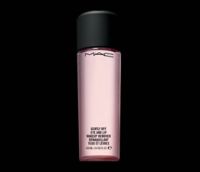 Not as good as L'Oreal

I do not like this product. It irritated my eyes, and I had a hard tme focusing my eyes for a while. L'Oreal makes the best eye makeup remover.

works well but greesy, strong

CONS: it works sooo well. PROS: i feel little bit of burning on my eyes, it is too strong to my skin

Takes off ALL waterproog makeup! Great product and good price!

I used to use the two-phased makeup remover from Lancome, and since that is so expensive, I decided to give this a try. It works just as well and I like bottle better because the Lancome one did not always seal very well. This works great at removing all traces of waterproof makeup, even long lasting lipsticks. I usually use this on a cotton pad to remove my makeup, then use a face wash (currently...read more Philosophy's Purity) to cleanse my entire face, and the result is squeeky clean skin. This does not irritate my eyes or leave any oily residue once I wash it off. I have tried similar two-phase makeup removers from the drugstore and they just don't work as well on long-lasting/waterproof makeup.
Back
to top