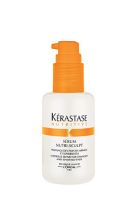 Sad it's discontinued but...

I've used this product for the last 7 months or so & very much like this product. Unfortunately it's discontinued but you can still get it online for far less than the Kerastase. com site. I started using this after I tried the Kerastase shampoo & conditioners & liked them. I'm a brunette & for the last 2 years was a platinum blonde which I liked very much, but since bleaching your hair ruins & br...read moreeaks off the ends I wanted my long hair back & knew I needed a good product to nourish the broken dried ends. The way I use tis product is to shower & apply to wet hair. The back says to use on wet hair, not on dry hair like one of the negative reviews below. They have other products that work much better on dry hair for "fly-aways." I do let my hair naturally dry overnight & sleep with a towel under my pillow case to not ruin the pillow. I have to do this since my hair is so damaged & know that as much as I want to curl & flat Iron my hair the only way to get it strong & long again is to not use the blow dryer or heating irons.

Really nice

I like this serum. I use it often, in between Aveda Brilliant use. It packs a very nice shine and I use even less than Aveda. The shine is awesome, too! I have grays peeking here and there, and Kerastase Serum makes my grays shine even more. Once I go all gray, I will stick with this product as a glosser/shiner because I like how it performs on my grays.

A bit oily

I guess I shouldn't be surprised. But this made my fine hair waaaay oily, even when using a few drops. I didn't like it much, but someone with 'better hair' might have better results.
Back
to top